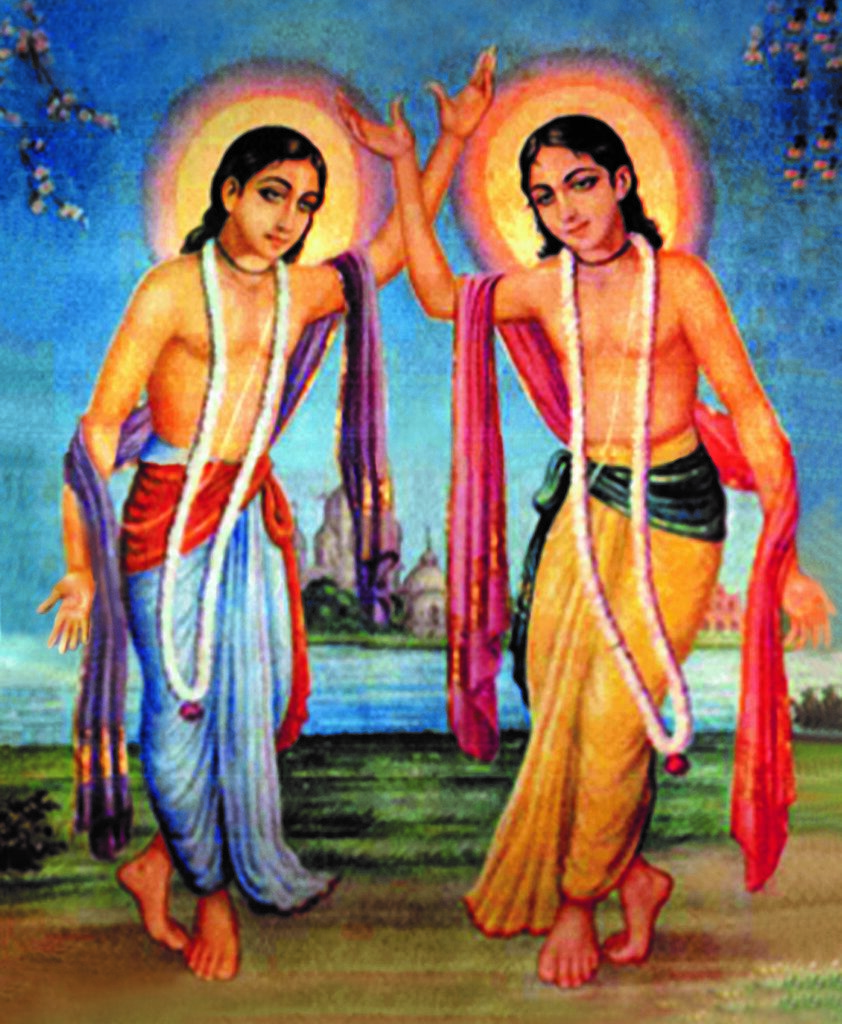 Who is Lord Nityananda? We have heard of Lord Krishna. We know that when we chant the name of Krishna, we refer to the Supreme Lord, the Supreme Personality of Godhead. We are not polytheists – we do not worship many gods. We often find that Hindus worship many gods, placing the demigods who manage universal affairs on the same level as the Supreme Lord. This is a misrepresentation of Vedic scripture and the message of the great spiritual masters. Krishna Himself says in Bhagavad gita:
Men of small intelligence worship the demigods.
The Vedas clearly state that there is only one Supreme Lord, but that, being all-powerful, He is able to expand Himself into many forms, to reciprocate in different moods with His devotees:
All the varied expansions of the Personality of Godhead are transcendental and eternal, and all of them repeatedly descend to all the different universes of the material creation. Their bodies, composed of eternity, bliss and knowledge, are everlasting; there is no chance of their decaying, for they are not creations of this material world. Their forms are concentrated spiritual existence, always complete with all spiritual qualities and devoid of material contamination.

[Maha-Varaha Purana. Quoted in purport Caitanya-caritamrta Adi 5:41]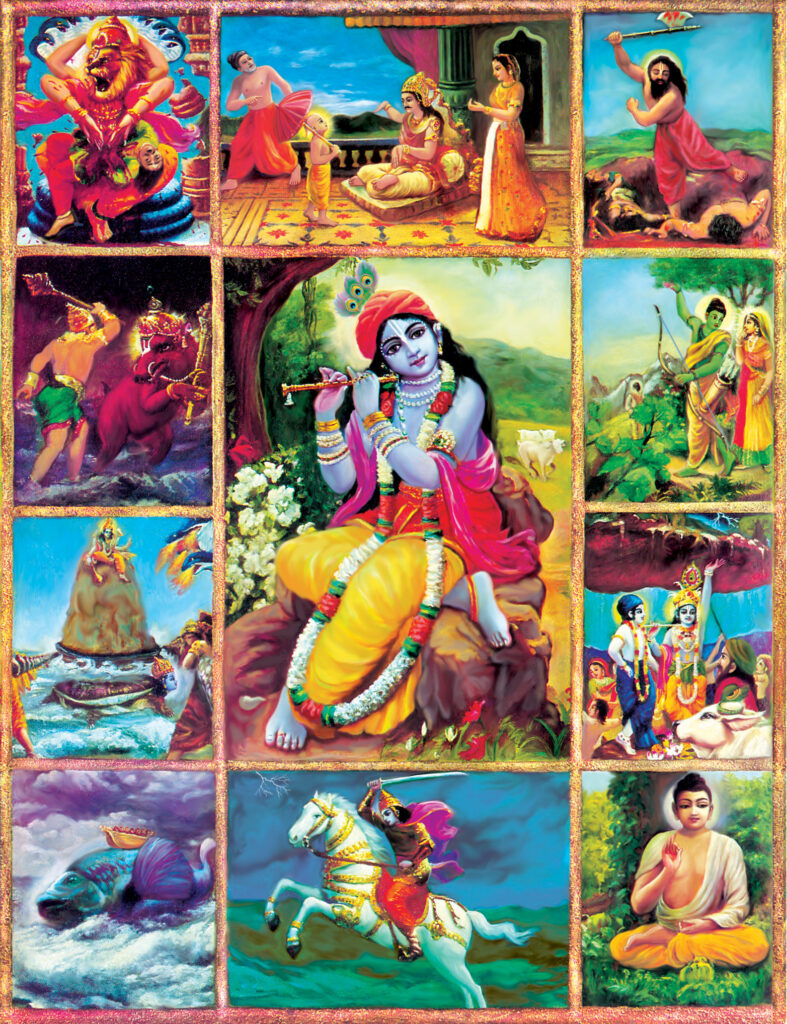 The infallible Personality of Godhead can manifest His body in different ways according to the different modes of worship, just as the Vidura gem can manifest itself in various colours, such as blue and yellow. Each incarnation is distinct from all the others. This is possible by the Lord's inconceivable potency by which He can simultaneously represent Himself as one, as various partial forms, and as the origin of these forms. Nothing is impossible for His inconceivable potencies.

[Narada Pancaratra]
Krishna is like a great actor who is able to play various roles for the satisfaction of His audience. The best actors are those who get so into a role that from one movie to the next they seem to completely change – they seem like a completely different person, and you almost forget who they are. They become that role. Well Krishna is the fountainhead of all abilities – He is the best at everything, and He is the perfect actor playing various roles.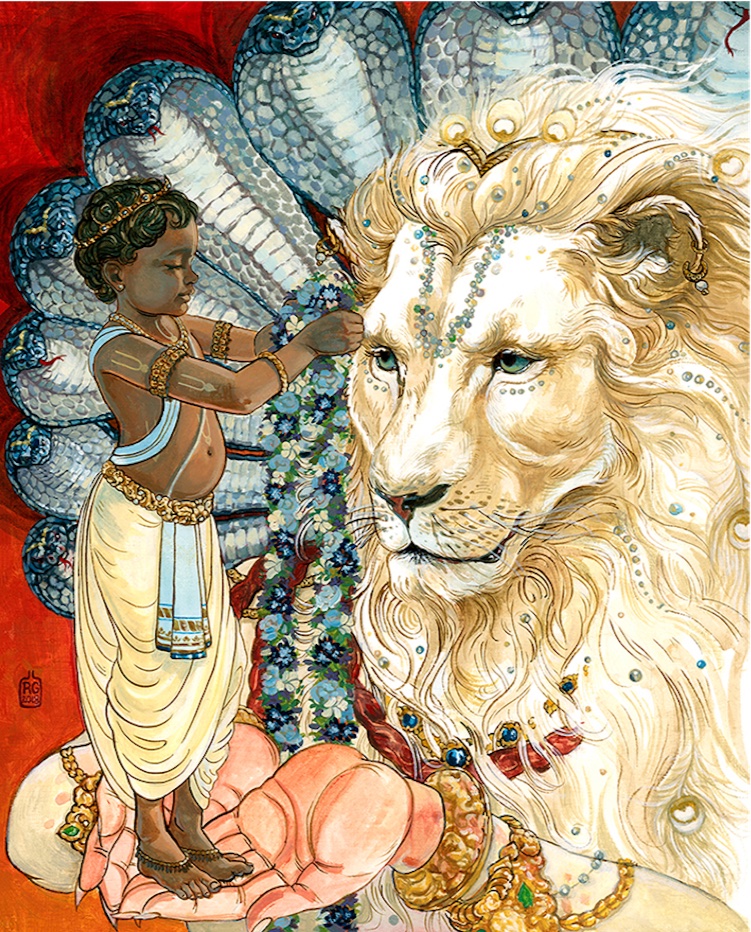 For instance, God is fiercely protective of His devotees, so He sometimes appears as Lord Nrsinghadev just to protect His devotees, and to chastise and liberate their persecutors. Lord Nrsinghadev is the embodiment of God's protectiveness towards his devotees. To the non-devotee, Lord Nrsinghadev appears to be very fierce and scary, but the pure devotee sees Krishna, the sweet little cowherd boy, hiding behind the "costume and mask" having so much fun. To Him it's just a great game, a lila or pastime. Lord Nrsinghadev is real and eternally existent – but simultaneously and inconceivably He is always non-different from Krishna. This is something that we may not fully understand, but we accept on the authority of Vedic scripture and saintly spiritual masters.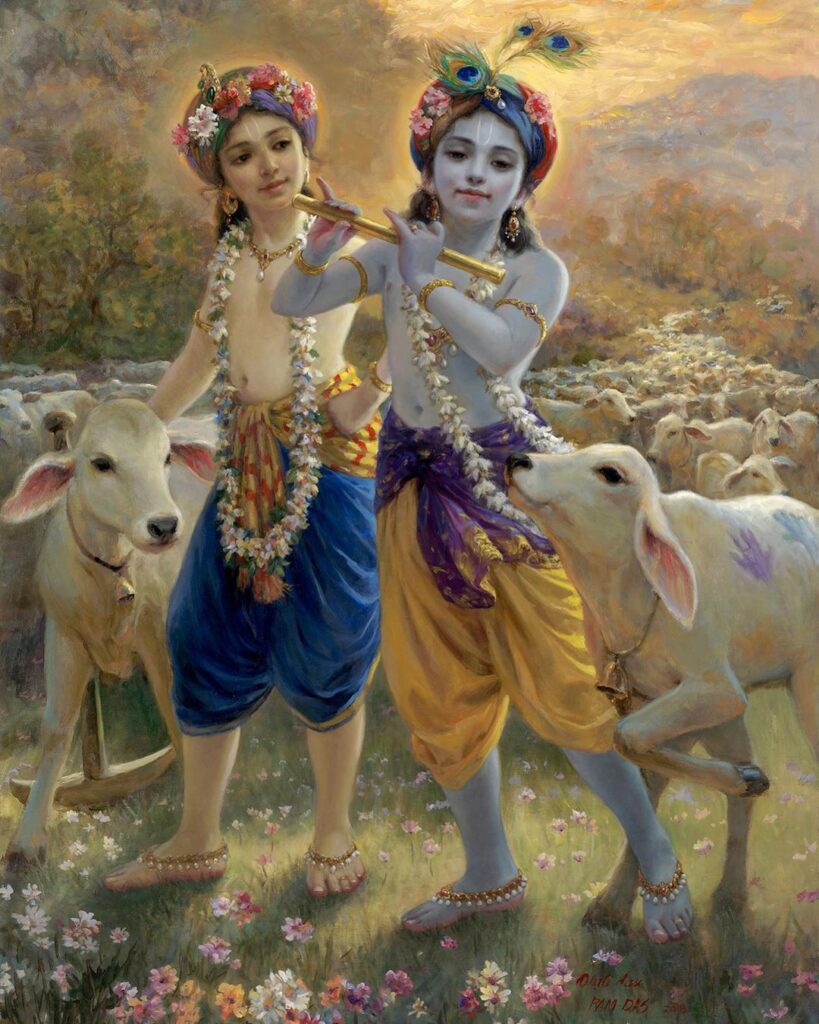 The first expansion of Lord Krishna is Lord Balaram. Balaram is also God. Krishna wants to enjoy having the perfect older brother to share his pastimes with. If we read the KRSNA book, we hear of many wonderful pastimes and adventures shared by Krishna and Balaram and the cowherd boys in Goloka Vrindavan, the spiritual world. Goloka means "the planet of the cows."
In this world, boys often have older brothers, but they are sometimes mean. They often hassle, tease and annoy their younger brothers. Or they totally ignore them. But Lord Balaram is not like that. He is the perfect brother. Balaram is the source of the sentiment of servitude to God – He is God in the role of the perfect servant of God. He is the perfect example of how to serve Krishna in great love, and therefore He is said to be the original spiritual master, and all true gurus or spiritual masters are the representatives of Lord Balaram.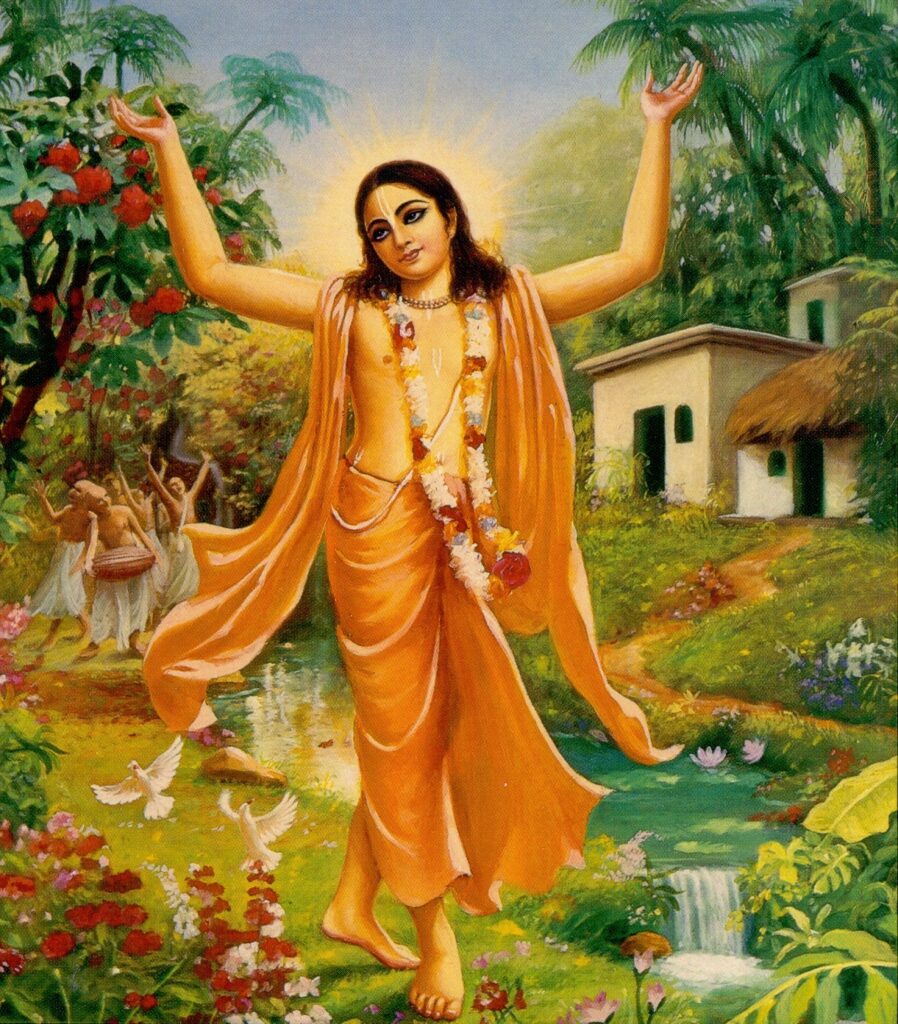 We also chant the names of Lord Chaitanya, Gauranga the Golden Avatar. Due to His great mercy and compassion for those souls who have lost their connection with Him – those of us who are trapped in the world of birth and death – Krishna appeared 500 years ago to save us. He appeared as Lord Chaitanya in a beautiful spiritual form that shines like molten gold. He came to give us His Holy Names, which are non-different from the Lord Himself and invested with all of His purifying transcendental potency. He came to call us back to Him – He misses us and wants us to come back home.
And when Lord Chaitanya appeared 500 years ago, Lord Balaram came with Him – He wasn't going to miss out on the fun. When the Lord comes to the material world, He actually brings the spiritual world with Him, and this includes all of His entourage – His family, friends, lovers and servants all come along to help the Lord enjoy His pastimes, and those places where the Lord's pastimes are enacted are known as holy places. They become purified and purifying, and are known as places of pilgrimage. And those who hear of these pastimes also become purified and eventually return to the spiritual world.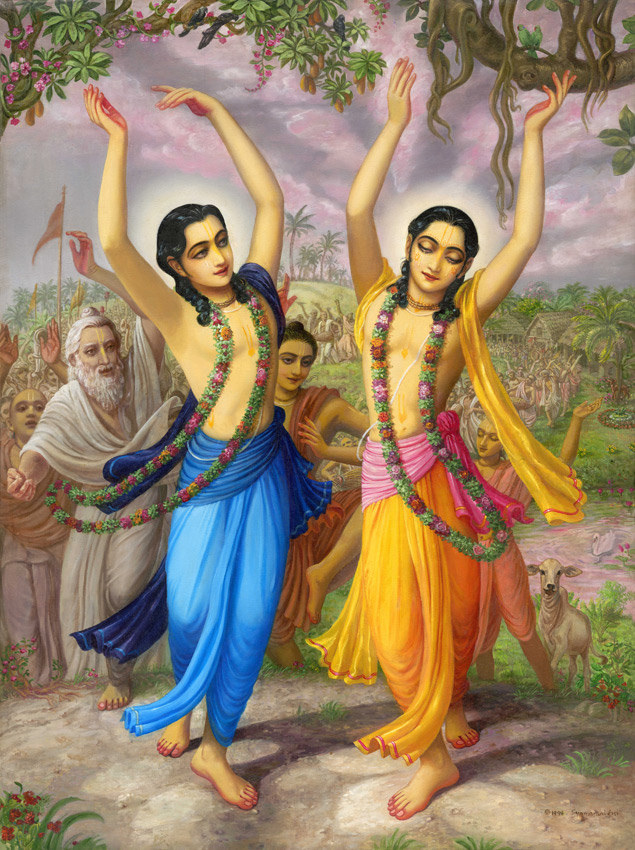 So, Lord Balaram, Lord Krishna's brother, appeared 500 years ago as Lord Nityananda. Lord Nityananda does not take birth like an ordinary person. He appears in this world in an eternal transcendental spiritual form, not a material body of flesh and blood like our own. Nityananda Prabhu appeared in the year 1473 in Ekachakra, a small village in West Bengal. Nityananda Prabhu appeared as the son of a pious brahmana Hadai Pandita and his wife Padmavati. The residents of Ekachakra were completely absorbed in the love of little Nitai. As a child, Nitai loved to constantly enact the pastimes of Sri Krishna and Lord Rama with His boyhood friends. He spent the first twelve years enacting these kinds of pastimes.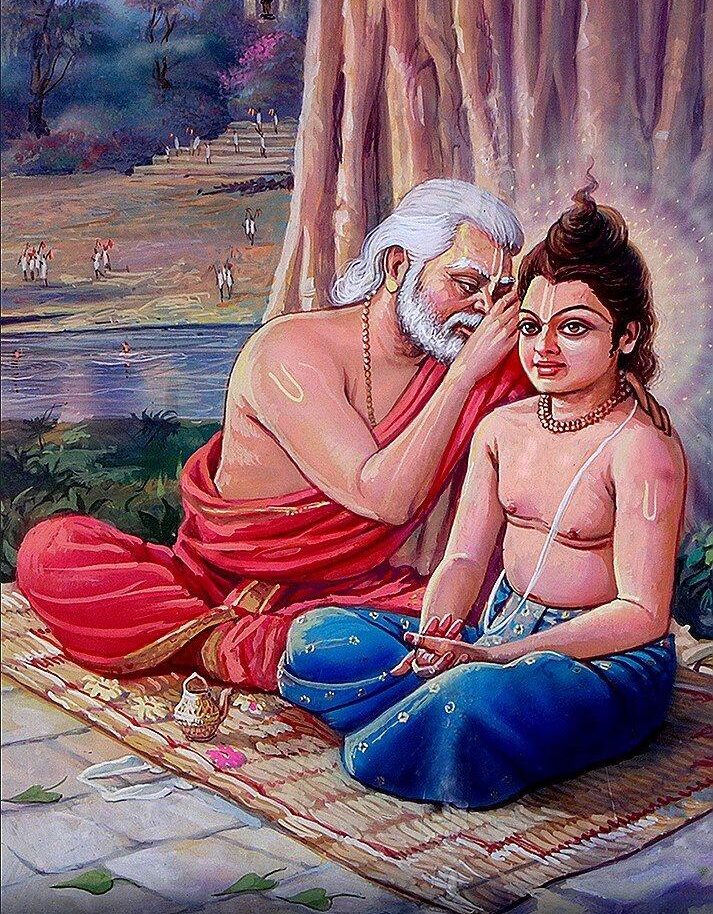 In his thirteenth year, a travelling sannyasi came as a guest of the Lord's parents and requested they allow Nitai to accompany him as a travelling companion. His parents, committed to Vedic culture, could not decline his request, and reluctantly parted with Nitai. Lord Nityananda toured the different holy places in both Northern and Southern India, in order to purify them from the sins left behind by the pilgrims who visit them. He finally arrived in Navadvipa and met Chaitanya Mahaprabhu.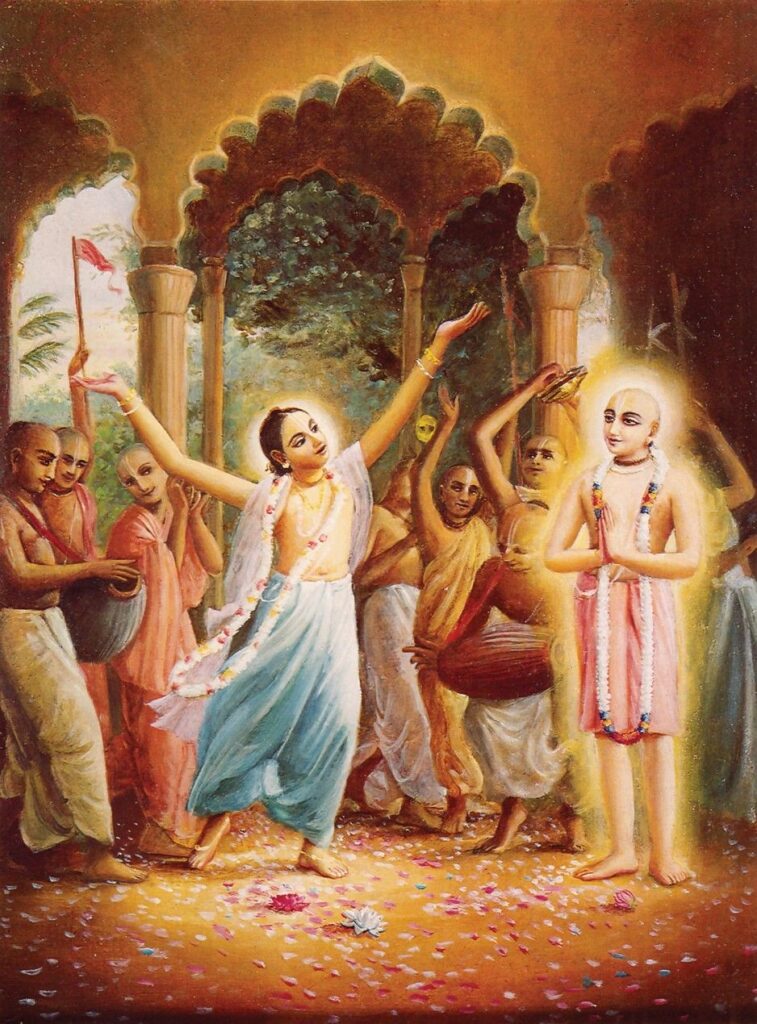 He acted as the student, friend and servant of Lord Chaitanya, and together they tasted the nectar of chanting the Lord's Holy Names and dancing in great ecstasy. Nityananda means "eternal bliss," and He came to teach us how to attain eternal bliss. He came to show us how to love and serve Lord Chaitanya. All great devotees in our line are the representatives of Lord Nityananda, and it is impossible to achieve love of God without pleasing and surrendering one's heart to Lord Nityananda. Only by His mercy can one attain the mercy of Lord Chaitanya, Who is none other than Lord Krishna Himself.
Lord Chaitanya's first and foremost devotee is Nityananda Raya. The glories of Lord Chaitanya are always on His tongue. Day and night Lord Nityananda speaks only of Lord Chaitanya. Whoever worships Him is a real devotee of Sri Chaitanya.

[Chaitanya Bhagavat Adi 9:217-218]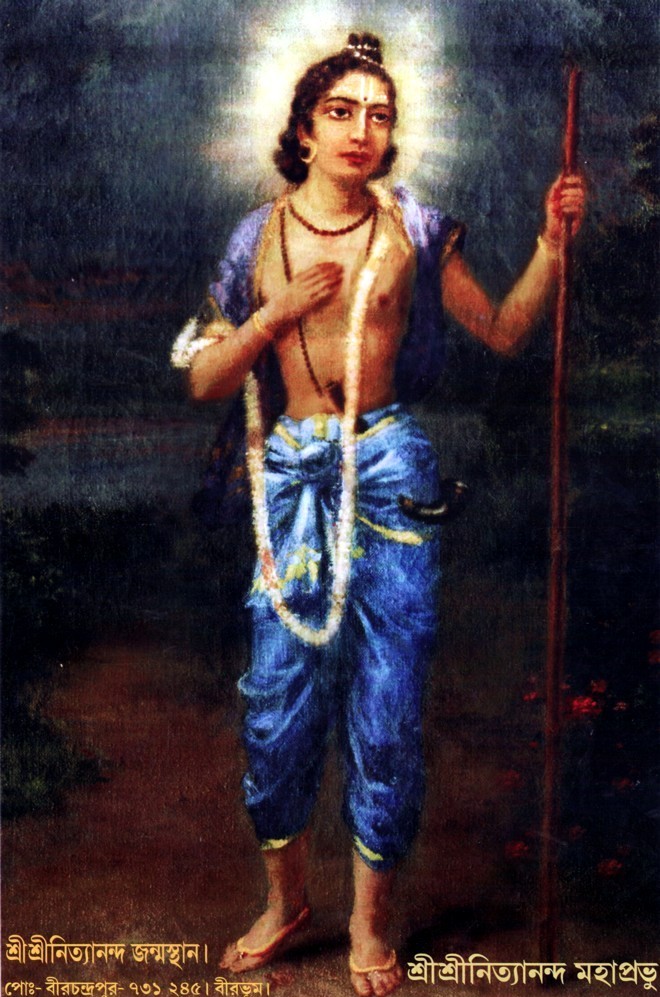 Nityananda, the wandering mendicant, is the foremost of all servants of Lord Chaitanya. He is like the gateway through which all service to Lord Chaitanya must pass. He became mad in ecstasy of service to Lord Chaitanya.

[Caitanya-caritamrta Adi 6:48]
Vrindavan Das Thakura was the dear-most initiated disciple of Lord Nityananda. He glorified Lord Nityananda in Sri Caitanya Bhagavata as follows:
Lord Nityananda is very effulgent like the brilliant sun. He is statuesque, like His Master, with the whitish complexion of Lord Balarama. His garments resemble a cluster of blue lotus flowers and His effulgence is said to surpass the grandeur of a rising moon at sunset. He has a deep melodious voice, constantly chanting the holy name and singing the glories of Lord Sri Krishna day and night. He is unequalled in the three worlds, non-different from Lord Caitanya.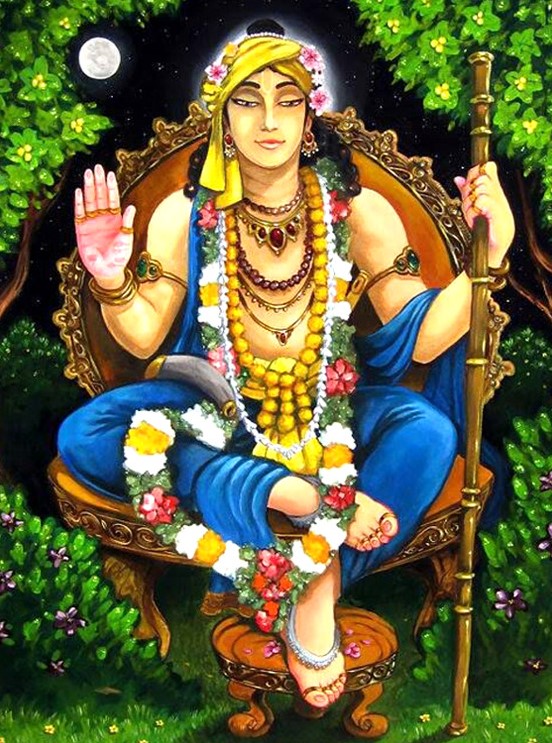 Absorbed within Himself, He often roared loudly like a lion, for He is the direct manifestation of Lord Balarama. His beautiful, glowing face easily defeats a thousand shining full moons. A captivating smile plays sweetly on His exquisite lips. So white and radiant are His teeth that if a pearl were held next to them the pearl would look like a faded and discarded piece of glass. His long, languid eyes steal the pinkish tinge of the early rising sun.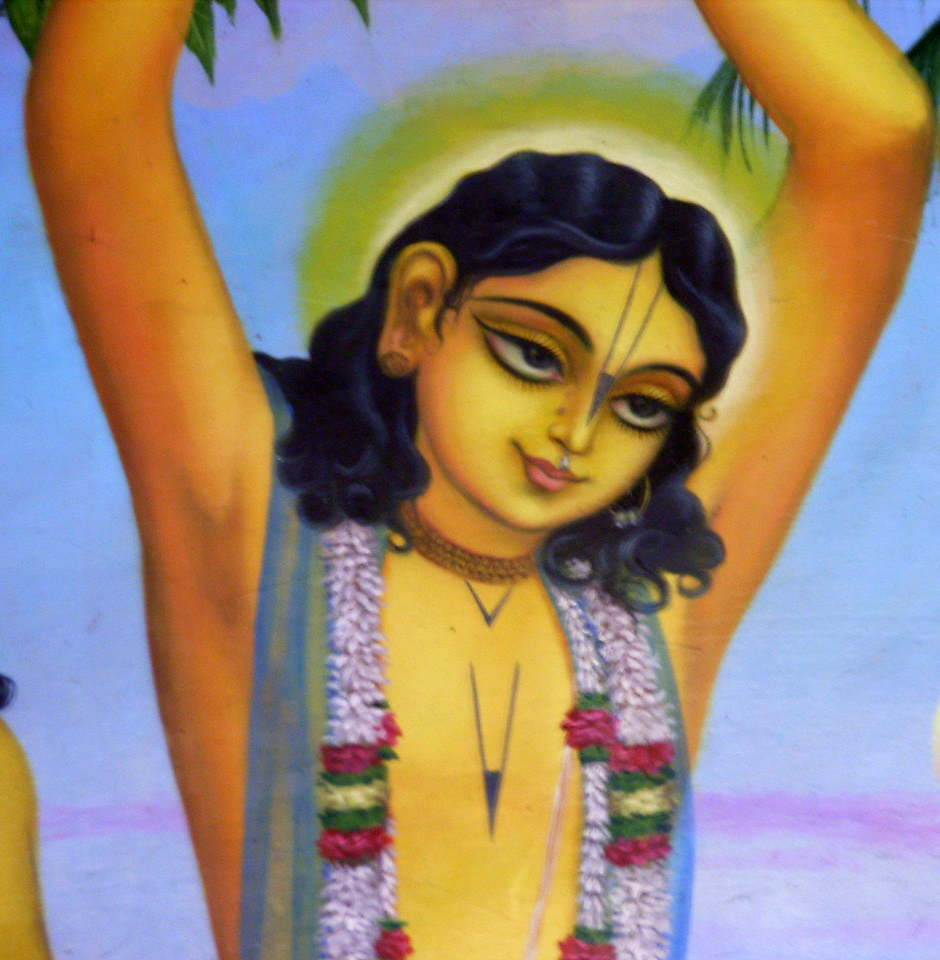 His arms are long and reach down to His knees, and He possesses a robust chest and broad shoulders. His lotus feet are soft. His gait is graceful. He speaks to everyone with kind words which sever the bonds of material attachment within everyone's heart. He carries a red stick with benedictions for the devotees, but feared by the demoniac. He has the carefree mood of a wild *avadhuta, so absorbed is He in the love of Godhead; no one knows what He will do next.
[*An avadhuta is a greatly advanced spiritual personality who is beyond common worldly concerns, and acts without consideration for standard social etiquette.]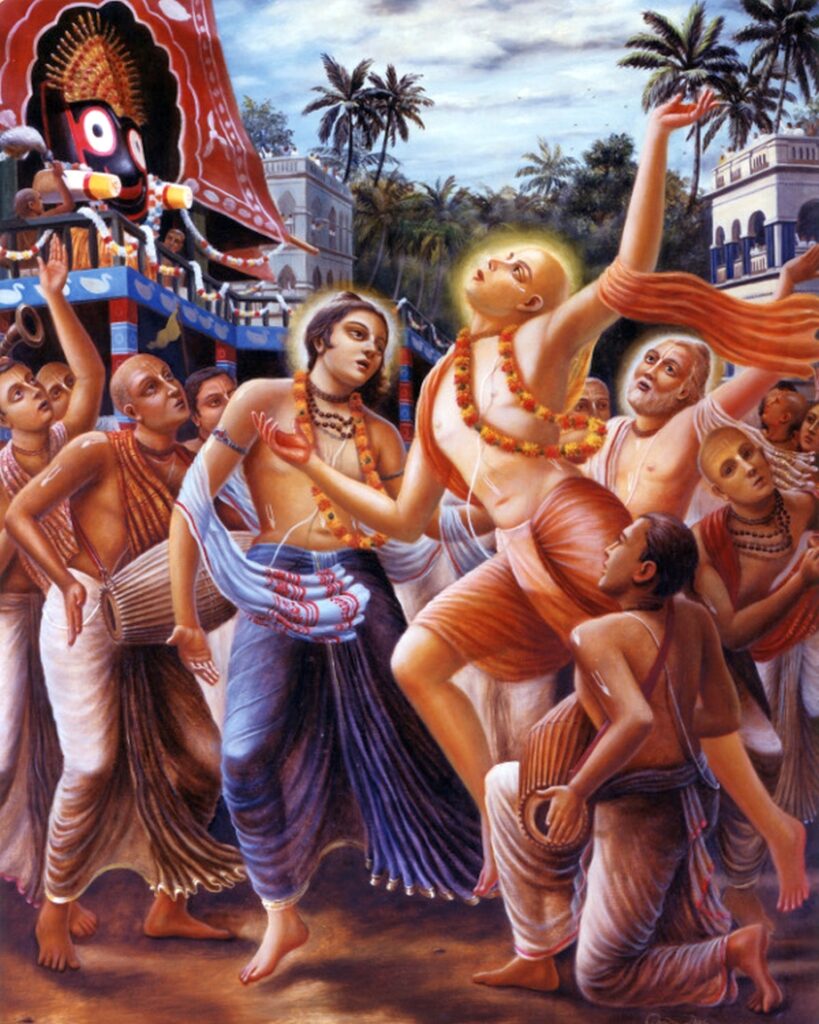 Lord Nityananda's Mercy
Giving Lord Nityananda a sitting place before Him, Lord Chaitanya then offered prayers to Him. O devotees, please hear these prayers. He said, "Your name is Nityananda. Your form is also Nityananda, or full of eternal [nitya] bliss [ananda]. You are Nityananda because You are Lord Balarama personified. With great bliss You wander here and there, You eat, and You act in different ways. There is never a time when You are not blissful. Where lives a mere human being with the power to understand You? You are eternal, spiritual, and supreme. As Lord Krishna is, so are You."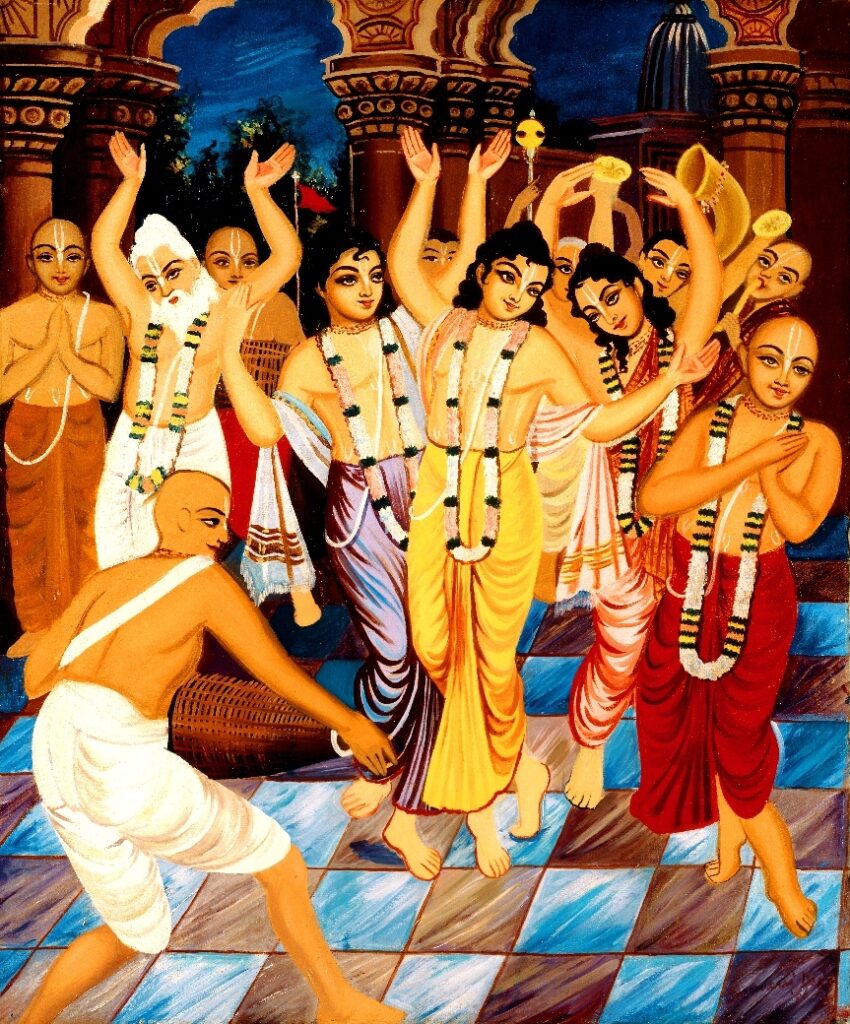 By Lord Nityananda's mercy one attains devotion to Lord Vishnu. Please know that Lord Nityananda has all the power of Lord Krishna. Lord Nityananda is not different from Lord Krishna. Lord Nityananda is Lord Krishna's associate, friend, couch, ornaments, and kinsman. Even the Vedas cannot approach Lord Nityananda's pastimes. Lord Nityananda is the father of all living entities. He is their protector. He is their friend. His every action is filled with the nectar of love for Lord Krishna. By serving Lord Nityananda one attains pure love and devotion to Lord Krishna.

[Sri Chaitanya-bhagavata Adi Khanda ch.12]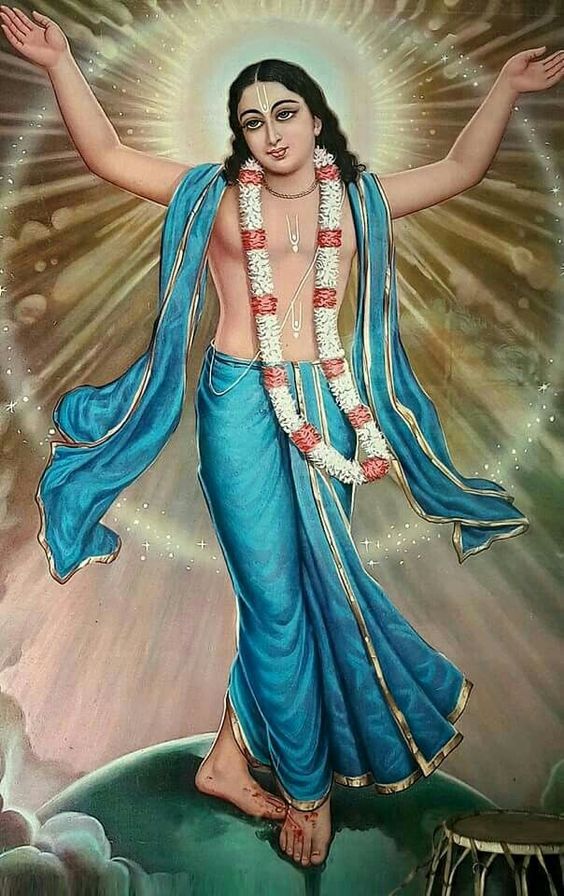 Nitai Pada Kamala
The lotus feet of Lord Nityananda are a shelter where one will get the soothing moonlight not only of one, but of millions of moons. If the world wants to have real peace, it should take shelter of Lord Nityananda. Unless one takes shelter under the shade of the lotus feet of Lord Nityananda, it will be very difficult for him to approach Radha-Krishna. If one actually wants to enter into the dancing party of Radha-Krishna, he must firmly catch hold of the lotus feet of Lord Nityananda.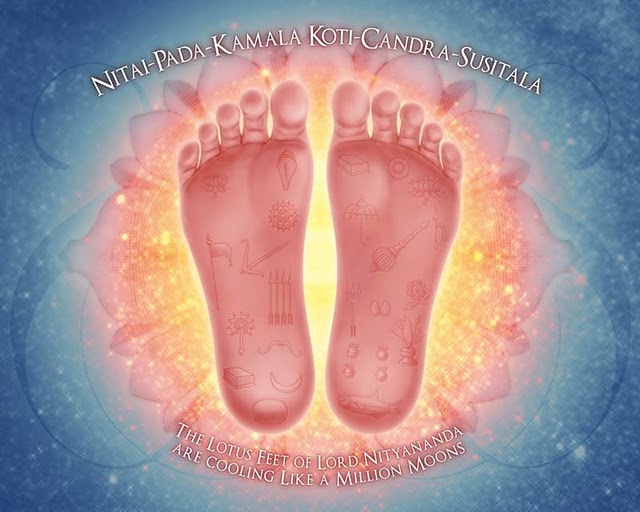 Anyone who has not established his relationship with Nityananda Prabhu is understood to have spoiled his valuable human birth. Such a human being is actually an uncontrollable animal. Because he never uttered the holy name of Nityananda, he has become merged into so-called material happiness. What can his useless education and family tradition do to help him?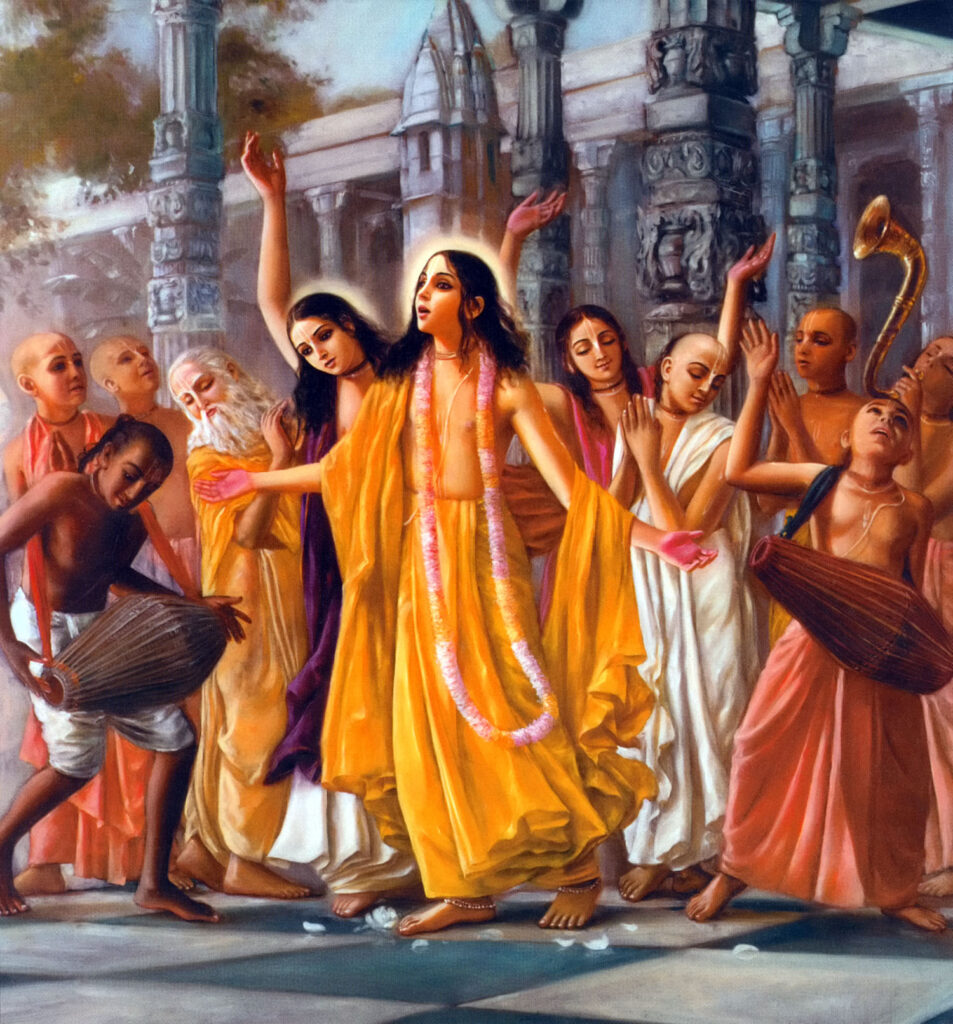 Being maddened after false prestige and identification with the body, one is thinking, Oh, what is Nityananda? What can He do for me? I don't care. The result is that he is accepting something false to be truth. If you actually want to approach the association of Radha-Krishna, you must first achieve the mercy of Lord Nityananda. When He is merciful toward you, then you will be able to approach Radha-Krishna. Therefore you should firmly grasp the lotus feet of Lord Nityananda.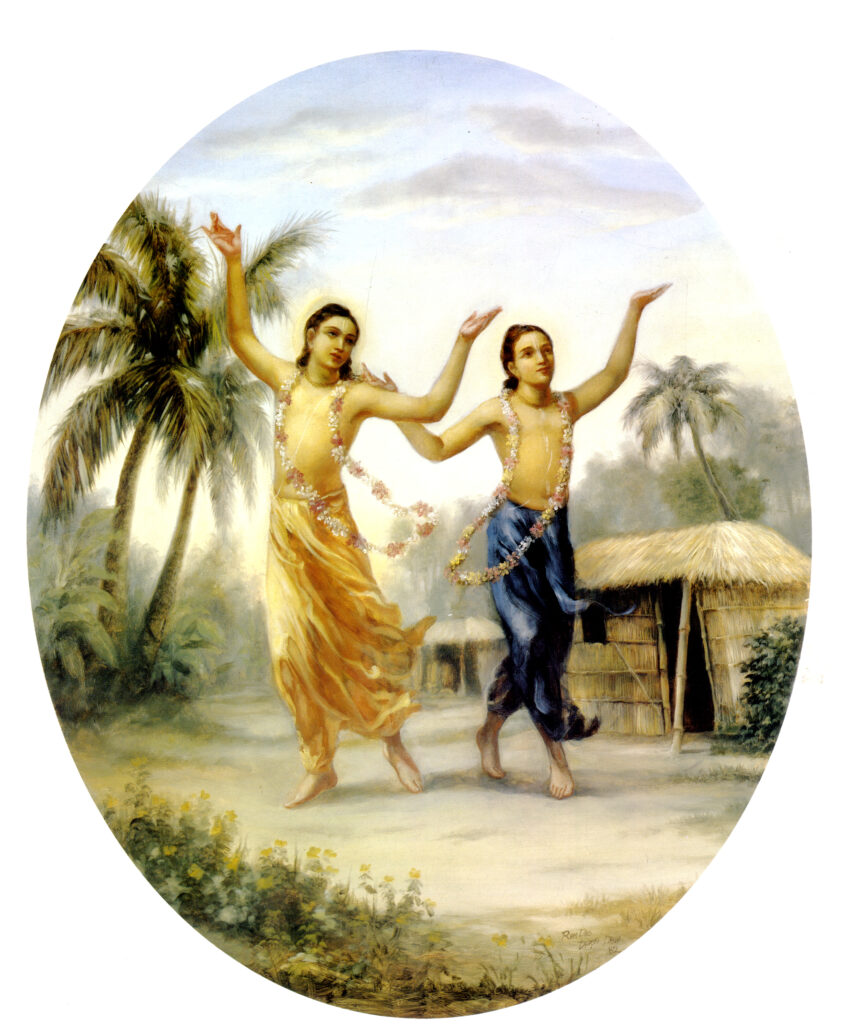 The lotus feet of Nityananda are not illusion; they are a fact. One who engages in the transcendental loving service of Nityananda is also transcendental. Always try to catch the lotus feet of Lord Nityananda. This Narottama dasa is very unhappy, therefore I am praying to Lord Nityananda to make me happy. My dear Lord, please keep me close to Your lotus feet.

[Narottama Das Thakur]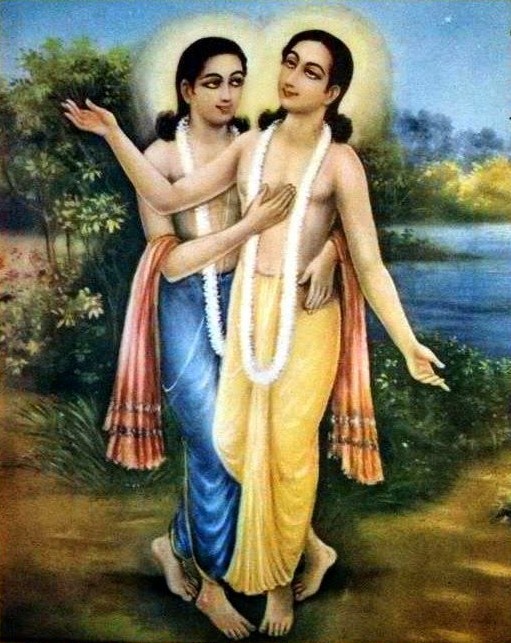 ---
---