Verses from Vedic Scripture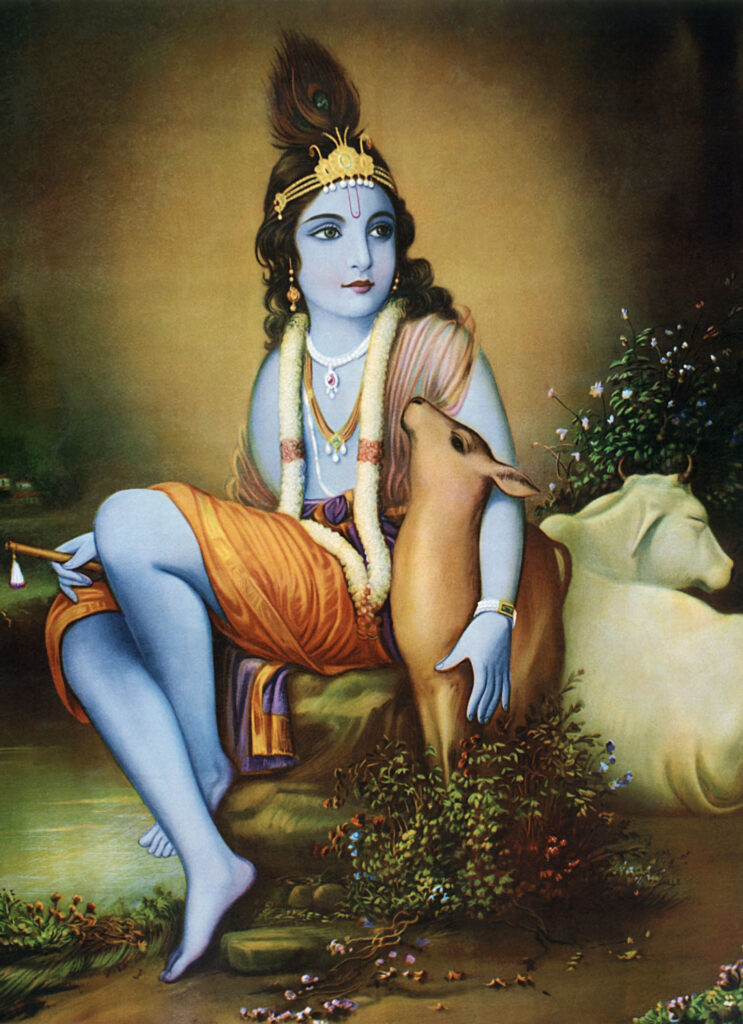 Bhagavad Gita
The sages, knowing Me as the ultimate purpose of all sacrifices and austerities, the Supreme Lord of all planets and demigods and the benefactor and well-wisher of all living entities, attain peace from the pangs of material miseries.

[Bhagavad-gita 5:29 Krishna to Arjuna]
I am the source of all spiritual and material worlds. Everything emanates from Me. The wise who know this perfectly engage in My devotional service and worship Me with all their hearts.

[Bhagavad-gita 10:8 Krishna to Arjuna]
Arjuna said: You are the Supreme Brahman, the ultimate, the supreme abode and purifier, the Absolute Truth and eternal divine person. You are the primal God, transcendental and original, and You are the unborn and all-pervading beauty. All the great sages such as Narada, Asita, Devala and Vyasa proclaim this of You, and now You Yourself are declaring this to me. O Krishna, I totally accept as truth all that You have told me. Neither the gods nor demons, O Lord, know Thy personality. Indeed, You alone know Yourself by Your own potencies, O origin of all, Lord of all beings, God of gods, O Supreme Person, Lord of the universe!

[Bhagavad-gita 10:12-15 Arjuna to Krishna]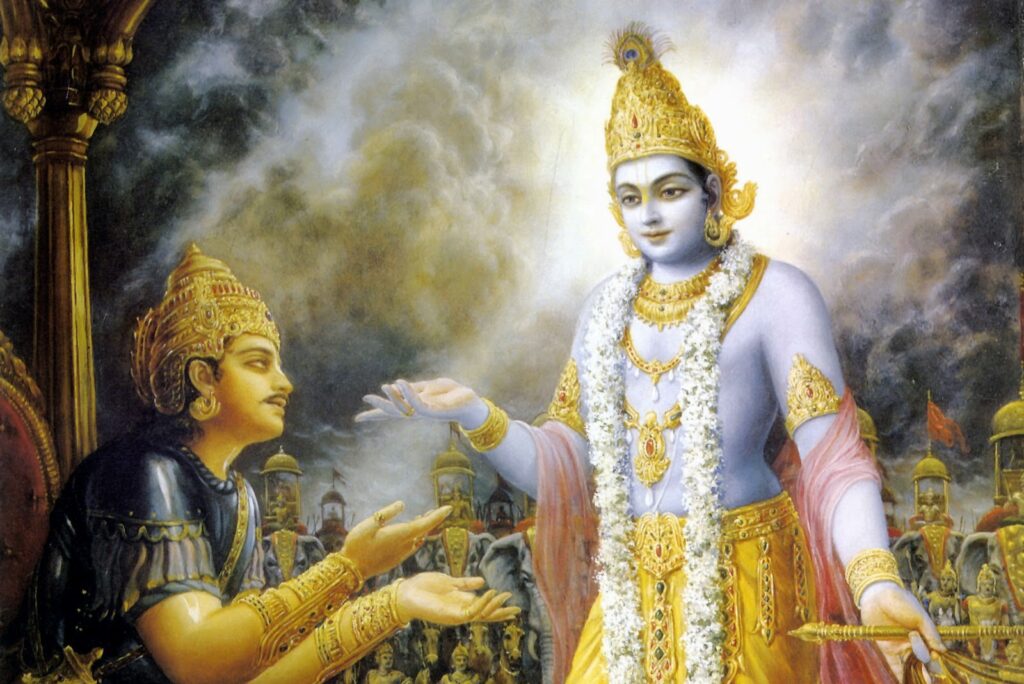 Srimad Bhagavatam
[Srimad Bhagavatam, also known as the Bhagavat Purana, was spoken by Vyasadeva and written down by Ganesha, son of Lord Shiva. Vyasadeva was the literary incarnation of the Supreme Lord, and he described the Srimad Bhagavatam as being the "ripened fruit of the tree of Vedic knowledge."]
O my Lord, Sri Krishna, son of Vasudeva, O all-pervading Personality of Godhead, I offer my respectful obeisances unto You. I meditate upon Lord Sri Krishna because He is the Absolute Truth and the primeval cause of all causes of the creation, sustenance and destruction of the manifested universes. He is directly and indirectly conscious of all manifestations, and He is independent because there is no other cause beyond Him. It is He only who first imparted the Vedic knowledge unto the heart of Brahmaji, the original living being. By Him even the great sages and demigods are placed into illusion, as one is bewildered by the illusory representations of water seen in fire, or land seen on water. Only because of Him do the material universes, temporarily manifested by the reactions of the three modes of nature, appear factual, although they are unreal. I therefore meditate upon Him, Lord Sri Krisnha, who is eternally existent in the transcendental abode, which is forever free from the illusory representations of the material world. I meditate upon Him, for He is the Absolute Truth.

[Srimad Bhagavatam 1:1:1]
Sri Krishna, the Supreme Personality of Godhead, who is the Paramatma (Supersoul) in everyone's heart and the benefactor of the truthful devotee, cleanses desire for material enjoyment from the heart of the devotee who has developed the urge to hear His messages, which are virtuous when properly heard and chanted.

[Srimad Bhagavatam 1:2:17]
In the revealed scriptures the ultimate object of knowledge is Sri Krishna, the Personality of Godhead. The purpose of performing sacrifice is to please Him. Yoga is for realising Him. All fruitive activities are ultimately rewarded by Him only. He is supreme knowledge, and all severe austerities are performed to know Him. Religion (dharma) is rendering loving service unto Him. He is the supreme goal of life.

[Srimad Bhagavatam 1:2:28-29]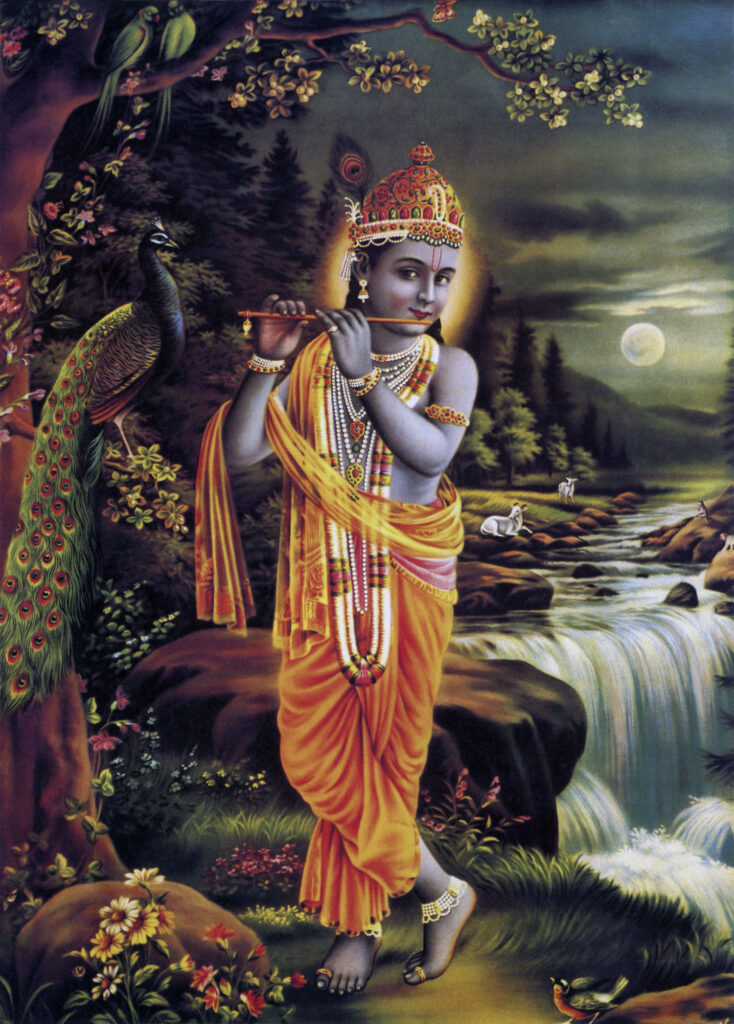 This Sri Krishna is no other than the inconceivable, original Personality of Godhead. He is the first Narayana, the Supreme enjoyer. But He is moving amongst the descendents of King Vrsni, just like one of us and He is bewildering us with His self-created energy.

[Srimad Bhagavatam 1:9:18. Grandfather Bhisma]
At the moment of death, let my ultimate attraction be to Sri Krishna, the Personality of Godhead. I concentrate my mind upon the chariot driver of Arjuna who stood with a whip in His right hand and a bridle rope in His left, who was very careful to give protection to Arjuna's chariot by all means. Those who saw Him on the Battlefield of Kuruksetra attained their original forms after death.

[Srimad Bhagavatam 1:9:39 Grandfather Bhisma]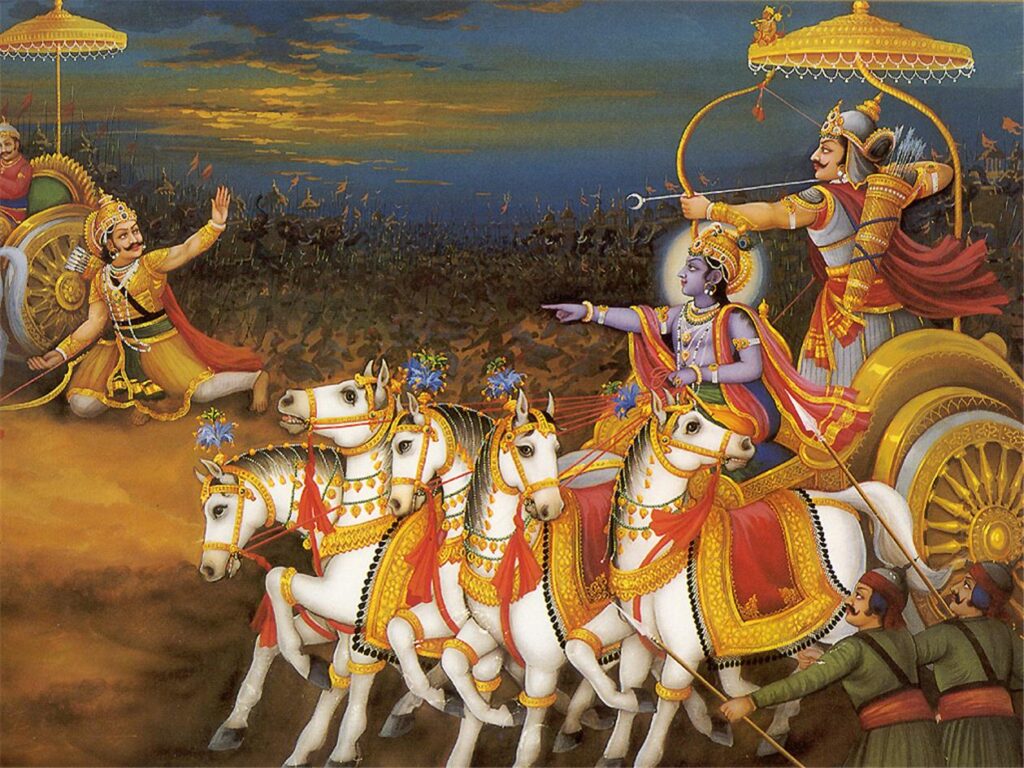 A person advanced in devotional service sees with everything the soul of all souls, the Supreme Personality of Godhead, Sri Krishna. Consequently he always sees the form of the Supreme Personality of Godhead as the cause of all causes and understands that all things are situated in Him.

[Srimad Bhagavatam 11:2:45. Quoted in Caitanya-caritamrta Madhya 25:129]
(Lord Chaitanya quoted this verse to Prakasananda Sarasvati)
Lord Sri Krishna, the Supreme Personality of Godhead, is the cause of all causes. He is past, present and future, and He is the movable and immovable. He is the greatest and the smallest, and He is visible and directly experienced. He is celebrated in the Vedic literature. Everything is Krishna, and without Him there is no existence. He is the root of all understanding, and He is that which is understood by all words.

[Srimad Bhagavatam 10:6:4. Caitanya-caritamrta Madhya 25:37 – Lord Chaitanya quoted this verse to Prakasananda Sarasvati)
My dear Lord, You are the Maha-purusa, the Supreme Personality of Godhead, and I worship Your lotus feet, which are the only eternal object of meditation. Those feet destroy the embarrassing conditions of material life and freely award the greatest desire of the soul, the attainment of pure love of Godhead. My dear Lord, Your lotus feet are the shelter of all holy places and of all saintly authorities in the line of devotional service and are honoured by powerful demigods like Lord Shiva and Lord Brahma. My Lord, You are so kind that You willingly protect all those who simply bow down to You with respect, and thus You mercifully relieve all the distress of Your servants. In conclusion, my Lord, Your lotus feet are actually the suitable boat for crossing over the ocean of birth and death, and therefore even Lord Brahma and Lord Shiva seek shelter at Your lotus feet.

[Srimad Bhagavatam 11:5:33 Narada Muni to Vasudeva]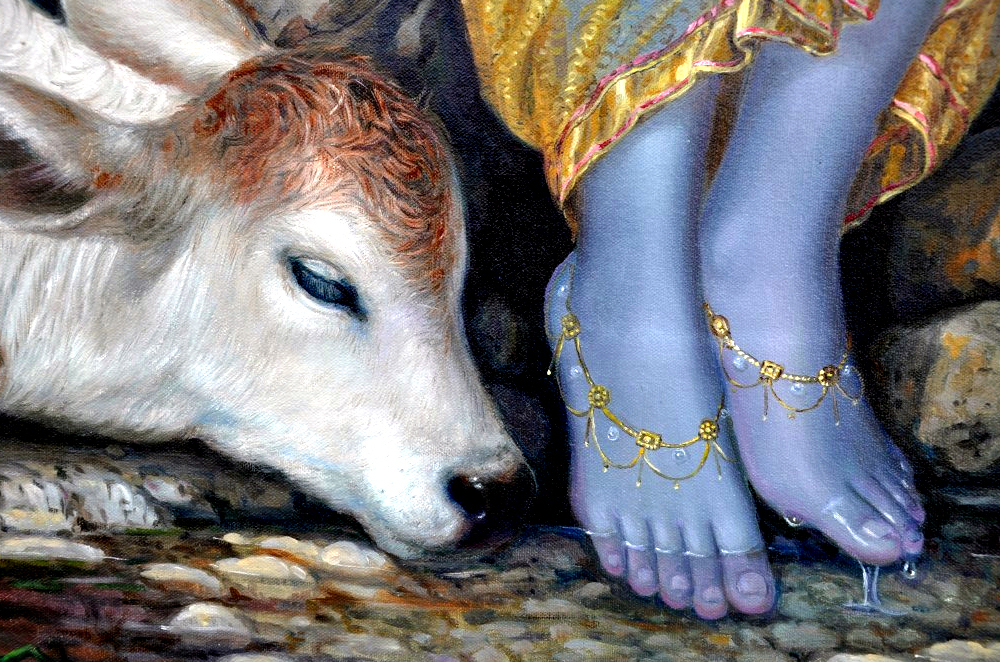 I create after the Lord's creation by His personal effulgence (known as the brahmajyoti), just as when the sun manifests its fire, the moon, the firmament, the influential planets and the twinkling stars also manifest their brightness. … Inspired by Him only, I discover what is already created by Him (Narayana) under His vision as the all-pervading Supersoul, and I also am created by Him only.

[Srimad Bhagavatam 2:5:11,17 Brahma to Narada Muni]
Are You not the original Narayana [Vishnu], O supreme controller,
since You are the Soul of every embodied being and the eternal witness
of all created realms? Indeed, Lord Narayana is Your expansion, and He
is called Narayana because He is the generating source of the primeval
water of the universe. He is real, not a product of Your illusory
Maya.

[Srimad Bhagavatam Lord Brahma to Lord Krishna]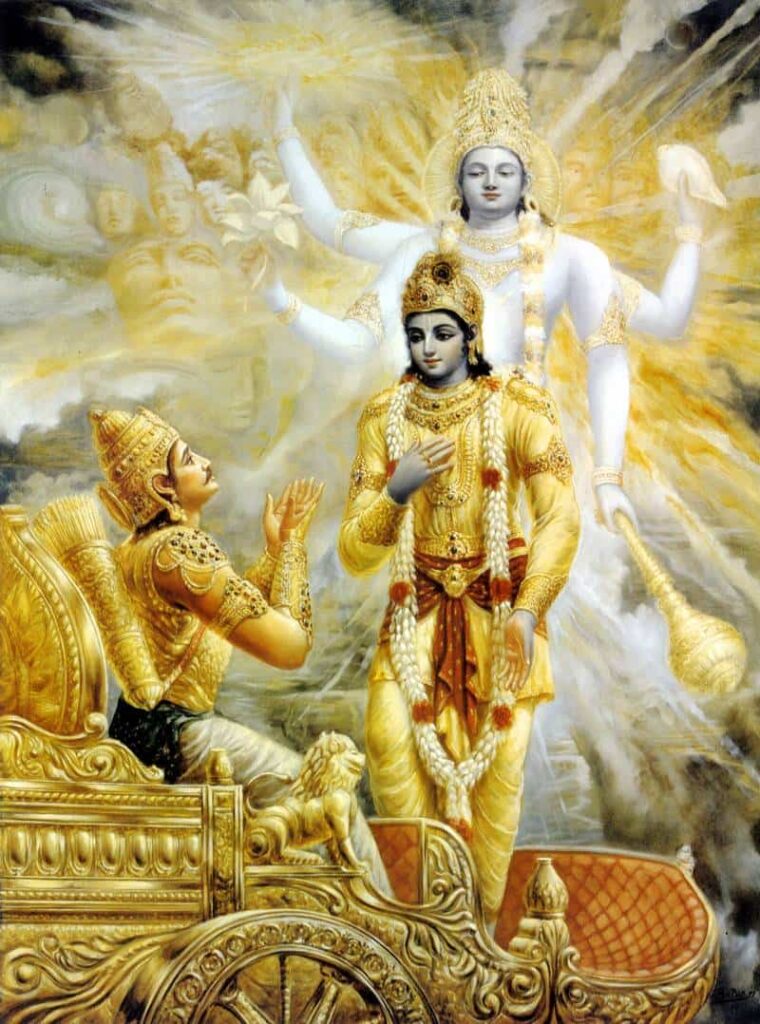 Brahma Samhita – Prayers of Lord Brahma
Krishna, who is known as Govinda, is the Supreme Godhead. He has an eternal blissful spiritual body. He is the origin of all. He has no other origin, and He is the prime cause of all causes.

[Brahma Samhita 5:1]
I worship Govinda, the Primeval Lord, Who is adept in playing on His flute, with blooming eyes like lotus petals, with head bedecked with peacock's feather, with the figure of beauty tinged with the hue of blue clouds, and His unique loveliness charming millions of cupids.

[Brahma Samhita 5:30]
I worship Govinda, the Primeval Lord, round Whose neck is swinging a garland of flowers, beautified by the moon locket; Whose two hands are adorned with the flute and jewelled ornaments, Who always revels in pastimes of love. His graceful three-fold-bending form of Shyamasundara is eternally manifest.

[Brahma Samhita 5:31]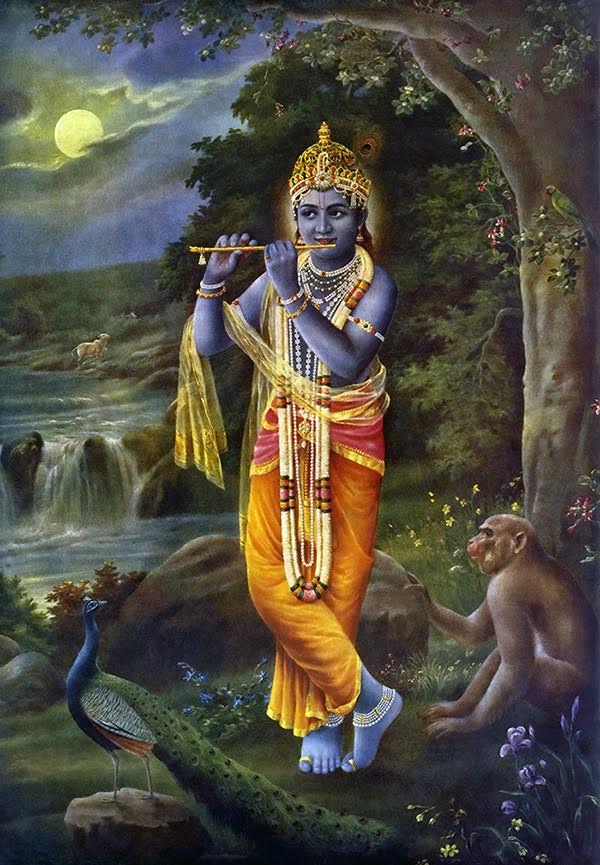 I worship Govinda the Primeval Lord, Whose transcendental form is full of bliss, truth and substantiality and is thus full of the most dazzling splendour. Each of the limbs of that transcendental figure possess in Himself the full-fledged functions of all the organs and eternally sees, maintains and manifests the infinite universes, both spiritual and mundane.

[Brahma Samhita 5:32]
I worship Govinda, the Primeval Lord, Who is the original person – absolute, infallible, without beginning, although expanded into unlimited forms, still the same original, the oldest, and the person always appearing as a fresh youth. Such eternal, blissful, all-knowing forms of the Lord are usually understood by the best Vedic scholars, but they are always manifest to pure unalloyed devotees.

[Brahma Samhita 5:33]
I worship Govinda, the primeval Lord, Who is the original personality of Godhead. By His partial plenary expansion (Maha Vishnu), He enters into material nature, and then into each and every universe (as Garbodakasayi Vishnu), and then (as Ksirodakasayi Vishnu) into all the elements, including every atom of matter. Such manifestations of cosmic creation are innumerable, both in the universes and in the individual atoms.

[Brahma Samhita 5:35]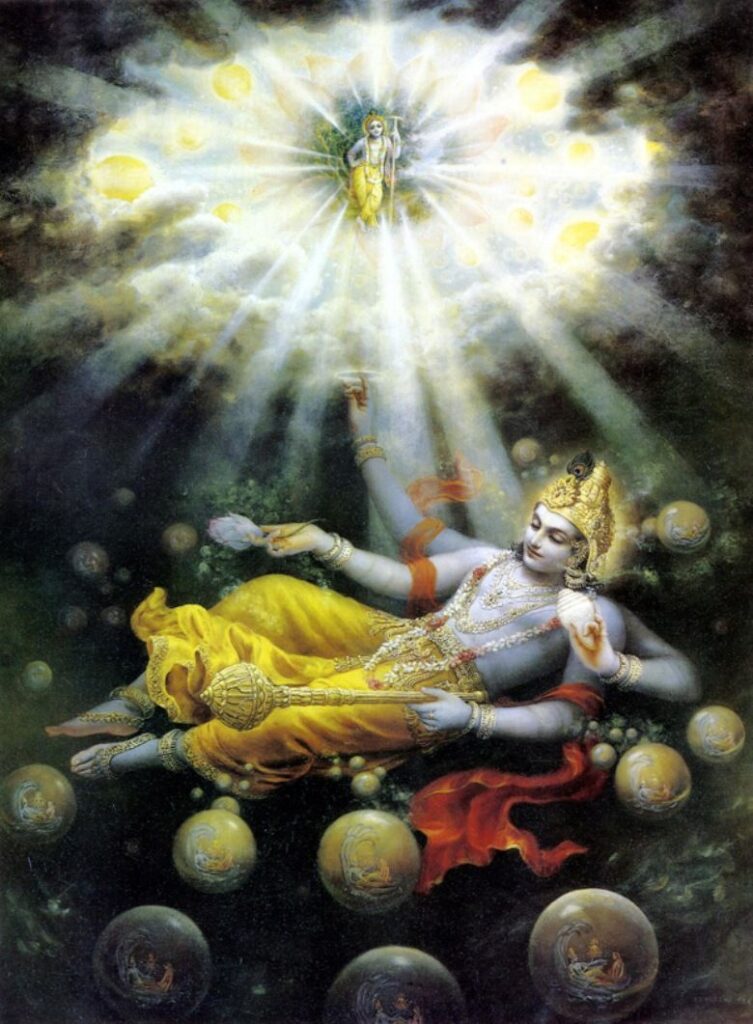 I worship the primeval Lord, Govinda, Who is always seen by the devotee whose eyes are anointed with the pulp of love. He is seen in His eternal form of Shyamasundar, situated within the heart of the devotee.

[Brahma Samhita 5:38]
I worship Govinda, the primeval Lord, who by His various plenary portions appeared in the world in different forms and incarnations, such as Lord Rama, but who personally appears in His supreme original form as Lord Krishna.

[Brahma Samhita 5:39]
Vishnu Purana
Let me offer my respectful obeisances unto Purusottama, Lord Krishna, who is always free from the contamination of the six material dualities; whose plenary expansion, Maha-Vishnu glances over matter to create the cosmic manifestation; who expands Himself in various transcendental forms, all of which are one and the same; who is the master of all living entities; who is always free and liberated from the contamination of material energy; and who, when He appears in this material world, seems one of us, although He has an eternally spiritual, blissful, transcendental form.

[Vishnu Purana 6:8:59]
Let me offer my respectful obeisances unto Lord Krishna who is the worshipable Deity for all brahminical men, who is the well-wisher of the cows and brahmins, and who is always benefiting the whole world. I offer my repeated obeisances to the Personality of Godhead, known as Krishna and Govinda.

[Vishnu Purana 1:19:65]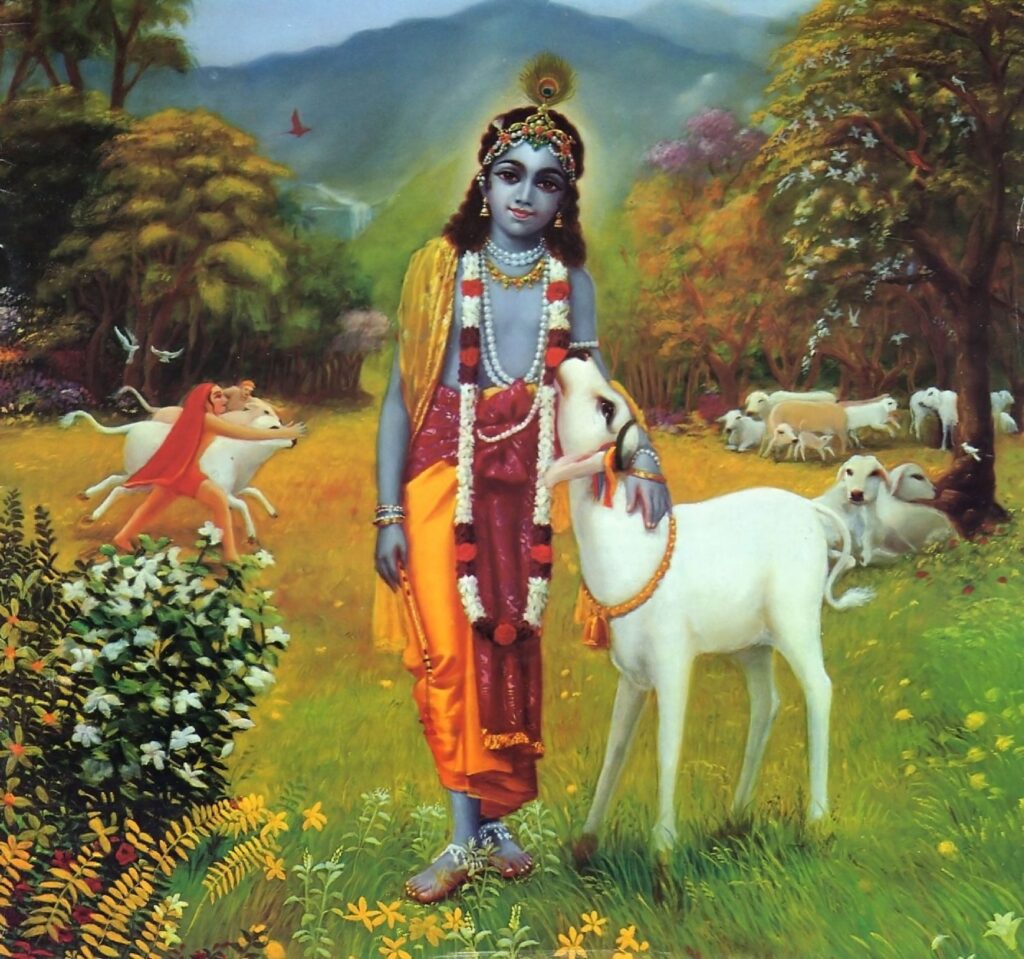 Padma Purana
Krishna is the origin of Lord Vishnu. He should always be remembered and never forgotten at any time. All the rules and prohibitions mentioned in the sastras should be the servants of these two principles.

[Padma Purana]
Narayana Upanishad
Then the Supreme Personality Narayana desired to create living entities. From Narayana, Brahma is born, and from Narayana the patriarchs are also born. From Narayana, Indra is born, from Narayana the eight Vasus are born, from Narayana the eleven Rudras are born, from Narayana the twelve Adityas are born. This Narayana is an expansion of Krishna.

[Narayana Upanishad 1]
In the beginning of the creation there was only the Supreme Personality Narayana. There was no Brahma, no Shiva, no fire, no moon, no stars in the sky, no sun. There was only Krishna, who creates all and enjoys all.

[Narayana Upanishad 4]
Moksa-dharma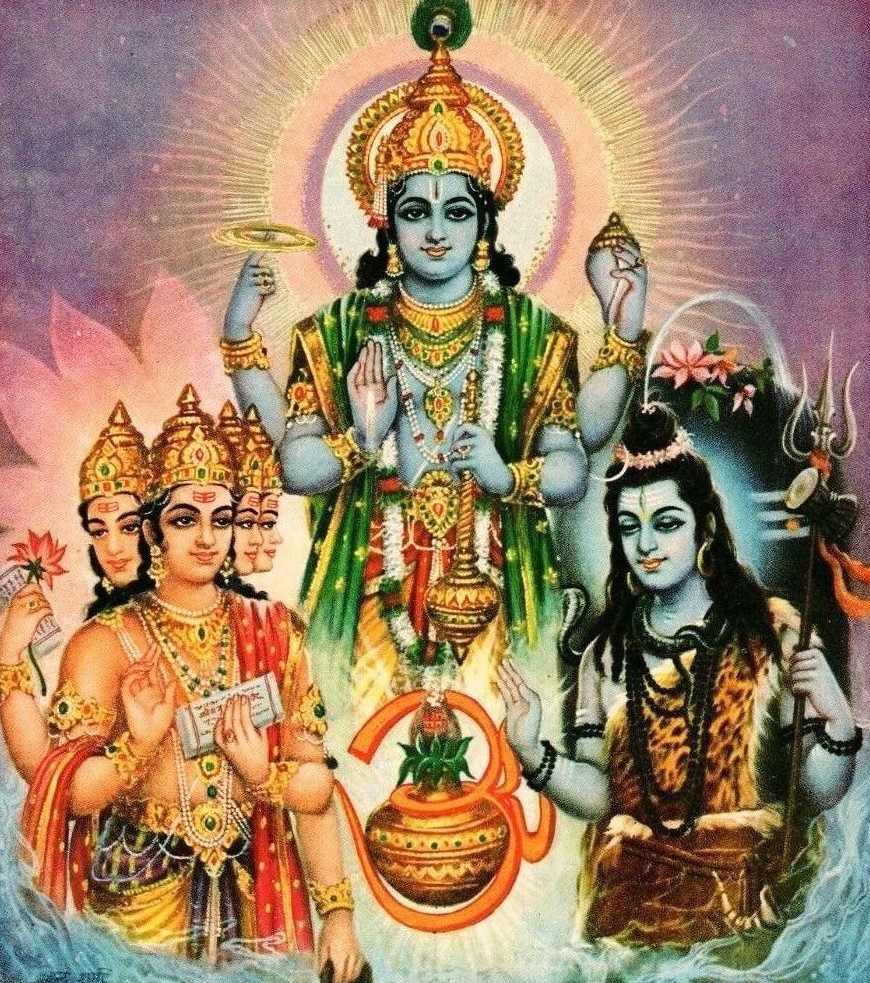 Srila Bhaktivedanta Swami says in his purport to Bhagavad-gita 10:8:
In the many Puranas it is said that Lord Shiva was born from the highest, the Supreme Lord Krishna, and the Vedas say that it is the Supreme Lord, the creator of Brahma and Shiva, who is to be worshiped. In the Moksa-dharma Krishna also says:
The patriarchs, Shiva and others are created by Me, though they do not know that they are created by Me because they are deluded by My illusory energy.

[Krishna: Moksa-dharma]
Varaha Purana
Narayana is the Supreme Personality of Godhead, and from Him Brahma was born, from whom Shiva was born.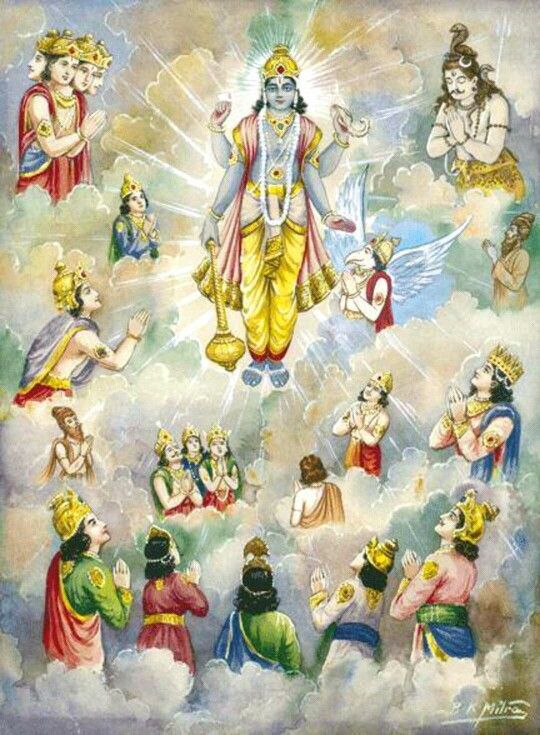 Bhakti-rasamrta-sindhu by Srila Rupa Goswami
My dear Krishna, when You order Brahma, "Now you may create the universe," and when You order Shiva, "Now you dissolve this material manifestation," You are in this way creating and dissolving the material creation Yourself. Simply by Your orders and by Your partial representation of Vishnu, You are maintaining the universes. In this way, O Krishna, O enemy of Kamsa, there are so many Brahmas and Shivas who are simply carrying out Your orders.

[Bhakti-rasamrta-sindhu (Nectar of Devotion)]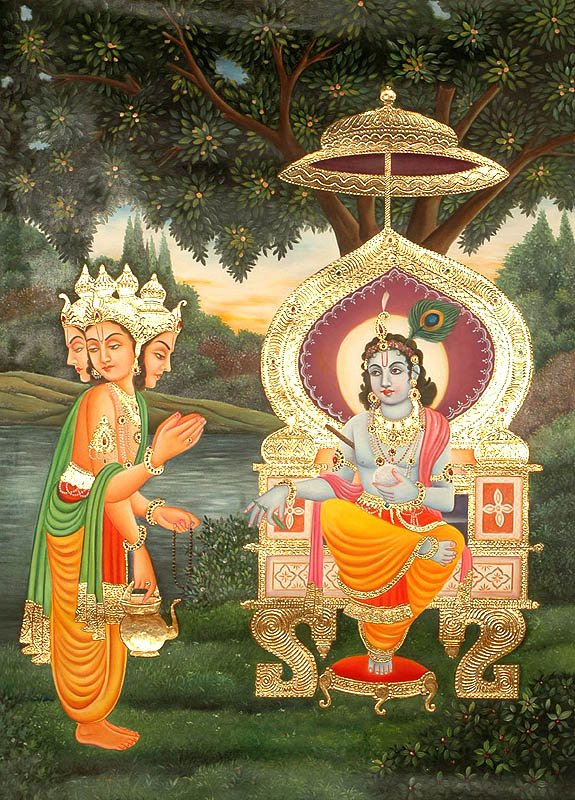 Mahabharata
The word 'krish' is the attractive feature of the Lord's existence, and 'na' means spiritual pleasure. When the verb 'krish' is added to the affix 'na', it becomes 'Krishna' which indicates the Absolute Truth.

[Mahabharata: Udyoga-parva 71:4]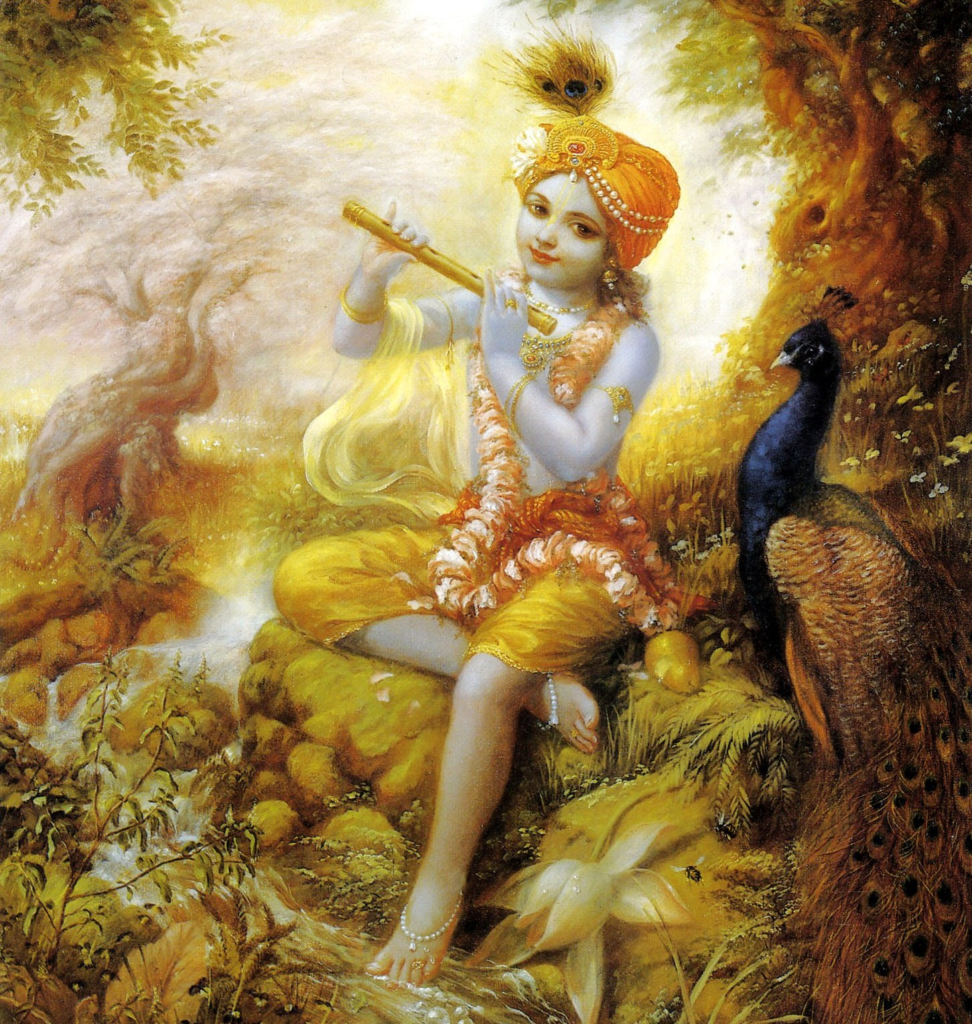 ---
---